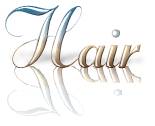 Hair is made out to be a major part of prom, but it's not life or death. Most girls make an appointment with their stylist to have their hair done the day of prom. Truthfully, many of them hate the results and go home, cry, and end up doing it over themselves. They've essentially wasted $40 on a salon appointment.
With this cheerful news in mind, what should you do? Remember, no one will do you hair the exact way you like. So, why not do it yourself? It may take a little more time, but chances are you'll make up for it by not having your hair done twice. Here's how you can go about styling your hair yourself.
1. After picking out your prom dress, try it on and have your mom or a friend take pictures of you in it. Be sure to get clear front and back shots.
2a. Do you have a style already in mind? Try it with your dress on. There's no point in getting an open-back dress if your long tresses just cover it. Also see how the style goes with your neckline. Is it flattering?
2b. If you don't have any ideas, you can make a short appointment with your stylist. Bring the pictures and get her input. If you're a frequent customer, the stylist usually won't charge you anything for this.
3. One month before prom, perm or color your hair if it's in your plans. If there's a disaster, you'll have time to work it out.
4. Three weeks before prom, do a dress rehearsal. Do everything just the way you want for prom. If your hair accessories don't match or break, then you've got time to replace them. This also prevents last-minute panic and discovering your style doesn't work on prom day.
5. Prom day! Do your hair after your makeup. If something goes wrong, don't stress! You'll just make it worse. Brush it out and try again. Chances are your date will never know! He'll be too busy thinking about how pretty you are!